Slacker Digital Sag Scale ADV Bundle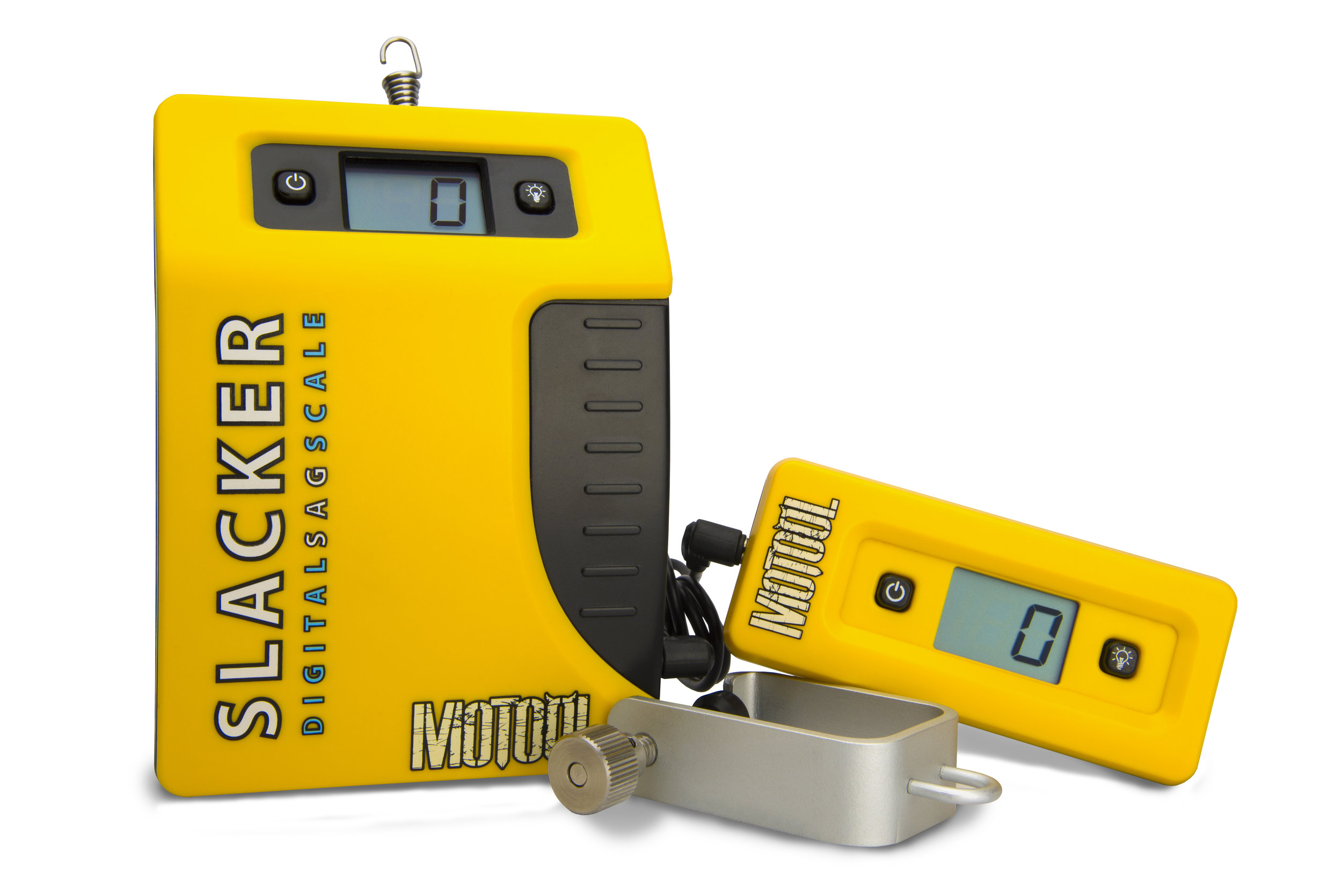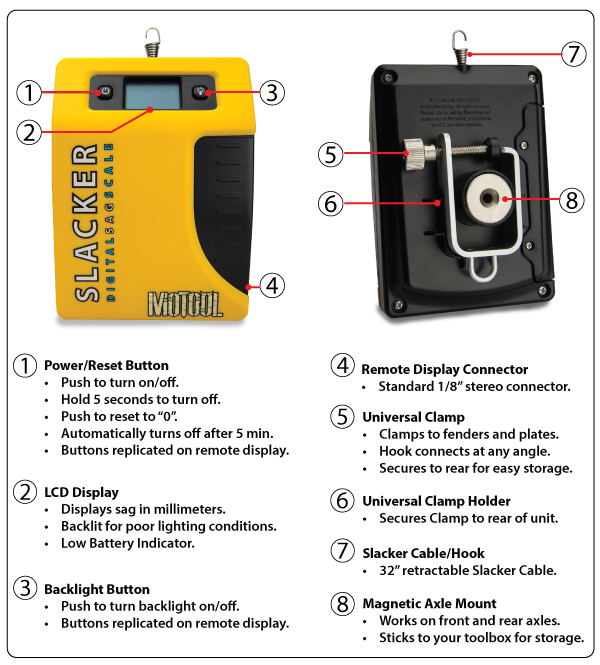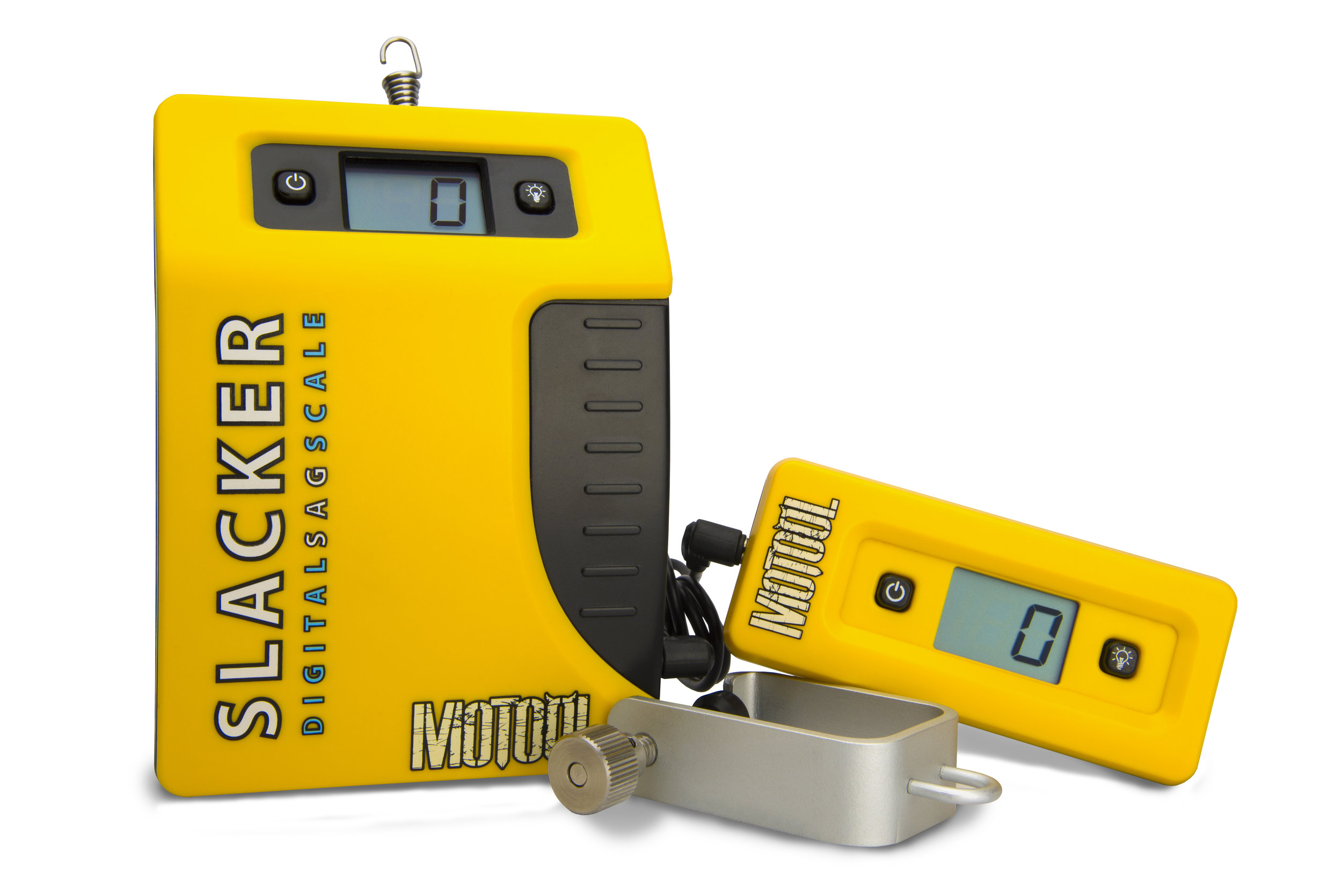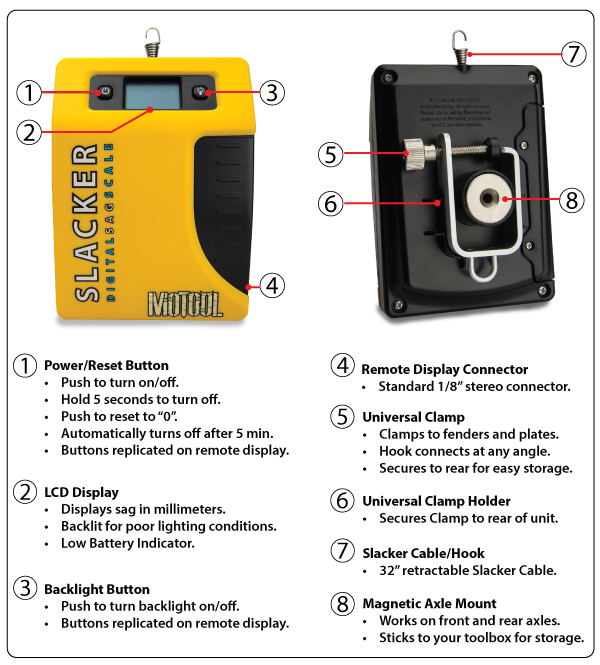 Slacker Digital Sag Scale ADV Bundle
The Slacker ADV bundle includes the Slacker digital sag scale, Slacker Street / ADV kit and 10 additional adhesive loops.
With the ever changing loads on ADV bikes and wide range of riding conditions it is critical to check and adjust sag regularly to make sure the bike is safe and handles properly. All it takes is a quick measurement and a couple turns of the spring and your bike can handle awesome all the time!

Fast, Simple, Precise
This patented system allows anyone to quickly and easily setup their bike's suspension. Slacker takes less than 30 seconds to place on the bike and take a precise measurement. The tool was developed over the course of two years with input from industry leading suspension companies to assure the accuracy, consistency and reliability of the tool.
It's Not Rocket Science
Adjusting suspension sag is the simplest, most overlooked change that you can make to dramatically improve the handling and safety of your bike. You will be amazed at how easy it is to dial in your bike yourself! Checking your sag regularly and adjusting it for different riding conditions is key to getting the most out of your bikes suspension. For faster conditions you can run more sag to make the bike more stable at speed and for tighter conditions you can run less sag so the bike steers better. It is super easy to adjust and you will kick yourself for not doing it as a regular part of your bike maintenance sooner.

A Smarter Slacker
The new Slacker with Auto Zero allows you to place the tool in a learning mode so it can actually learn where the zero point is when a bike
is lifted. This is ideal for street bikes as well as dirt bikes when you don't have a stand or are doing multiple bike setups. All you do is hold the backlight button for 3 seconds to place it in Auto Zero mode, then lift the bike to unload the suspension and it automatically marks the zero point so you are ready to take measurements.
Purpose Built
Slacker is the only purpose built system designed specifically for setting up motorcycle suspension. Many of the world's top suspension companies and factory teams are already using Slacker both on and off the road.
Universal Mounting: The Slacker digital sag scale works on both front and rear axles and is excellent for setting up new generation Air forks. The clamp attaches to number plates or fenders for off-road bikes or we offer an optional street kit for street bikes. We have even seen people using these on snow machines!
Remote Display: A remote LCD display can be strapped on the bars allowing a single person to easily take measurements and control functions. All buttons function identically to main unit including the Auto Zero function.

Auto Zero: This feature allows you to place Slacker in a learning mode so it can learn the zero point when the bike is lifted, eliminating the need for stands and extra helpers. Just hold the backlight button for 3 seconds to enable Auto Zero.

Any Bike, Any Time: The Slacker digital sag scale works with any off-road bike 65cc or above with steel axles as well as most street/sport bikes with our optional Slacker street kit. Slacker works on pretty much any motorcycle with steel axles. Also, for oversize axles and Titanium axles look for our new axle insert systems coming in 2017!